Joe Cube - The Hardware
The Hardware with one mission:
Get your hardware/clients/employees working again
---
Joe is a hardware device that allows for remote hardware-level interaction through a USB port. You can view and control systems, even if the device cannot connect to the network. This secure device enables remote diagnostic management at its best. You are able to remotely and securely provide end-user support, update firmware, operating systems, applications and patch without data loss. Plug Joe in, align the Camera and go!
---
Agentless
Wifi enabled 4G Capable and 5G Ready
Automatic device discovery
No additional hardware required
Encrypted and Secure

EasyCubed Platform
Identity Management as a Service & Enterprise Security
---
Patented Support Software that is encrypted and secure. Using a single sign-on, simply authenticate and cloud connect to diagnose and fix the issue.
---
Centralized Authentication
Single Sign-On
Cloud Based
Patented Secure Protocol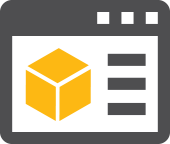 Start Pages Dashboard
Next Generation Application Gateway
---
A single dashboard that can be customized for IT staff to manage the multi-cloud products/services management interface. Gives the ability to manage simple user provisioning and de-provisioning. It is enhanced for mobile and tablet viewing experiences. Perform licensing, user, and audit reporting tasks all in one dashboard experience.
---
Quick Launch Dashboard
Role Based Access
Accessible on any web-enabled device
Mobile Responsive